The sculptural details on the walls of the Chennakeshava Temple, Belur is captivating. An aesthete is often drawn to this famous Hoysala temple town.
The graceful statue of Chennakeshava, mesmerising Mohini, the details in the ceiling make the temple interiors most beautiful among the Hoysala temples.
However the bracket figures, popularly called madanike or Shilabhalike , on the outer walls make me spend hours for their intricate details; They represent beautiful damsels in various moods representing feminine charm and grace, this perhaps are one of the best creations of the Hoysala sculptors of the Belur temple
In this blog I will show most of the madanike or Shilabhalike I captured recently! Hope you will like them as much as I did capturing them.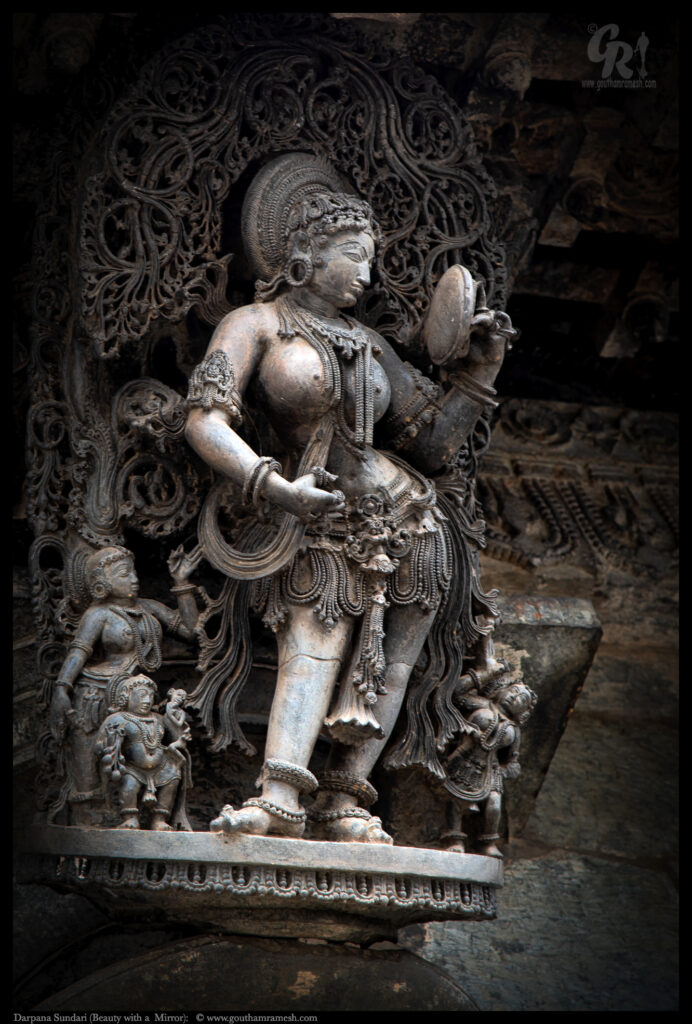 This is a the most popular all the Shilabalike's The Darpana Sundari is right at the main entrance of the temple and it is lady holding mirror in her left hand and looking at her beauty in it.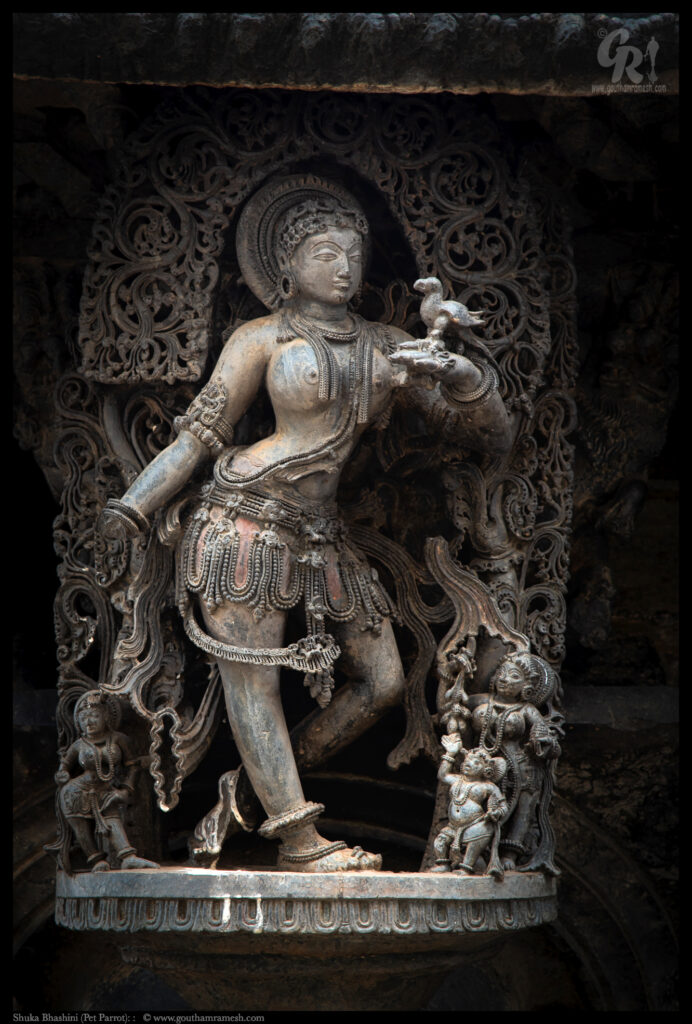 This is a beauty with a pet parrot talking to it .. Shuka Bhasini means sweet talker.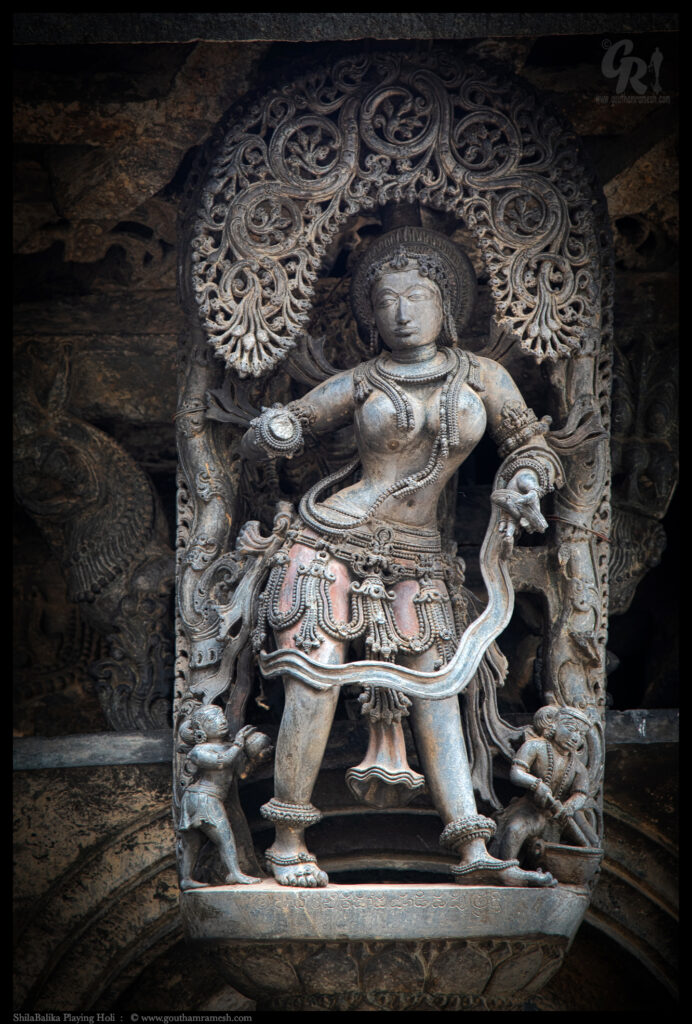 This beautiful sculpture has her one hand damaged and missing maybe she was holding a color pump ( Pichkari ) , As per local guide looking at the smaller form on the right , filling color this might have been a figure playing holi .. so in 11-12 century AD maybe playing with colors was predominant in south india also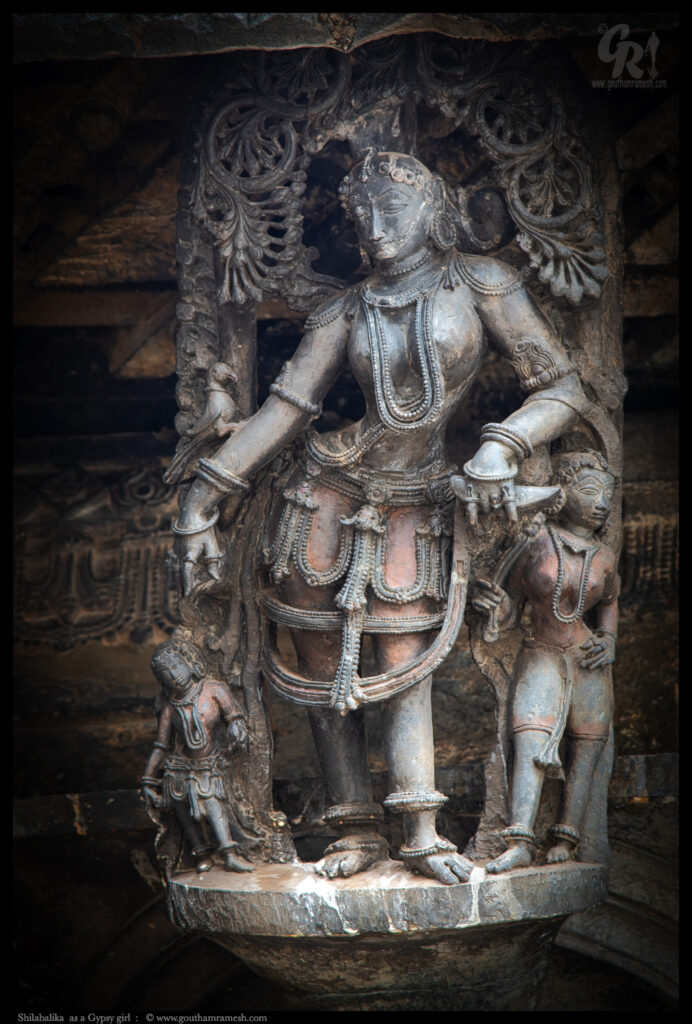 This Balika has dressed like a gypsy girl as per the hair style and she has a parrot on her arm.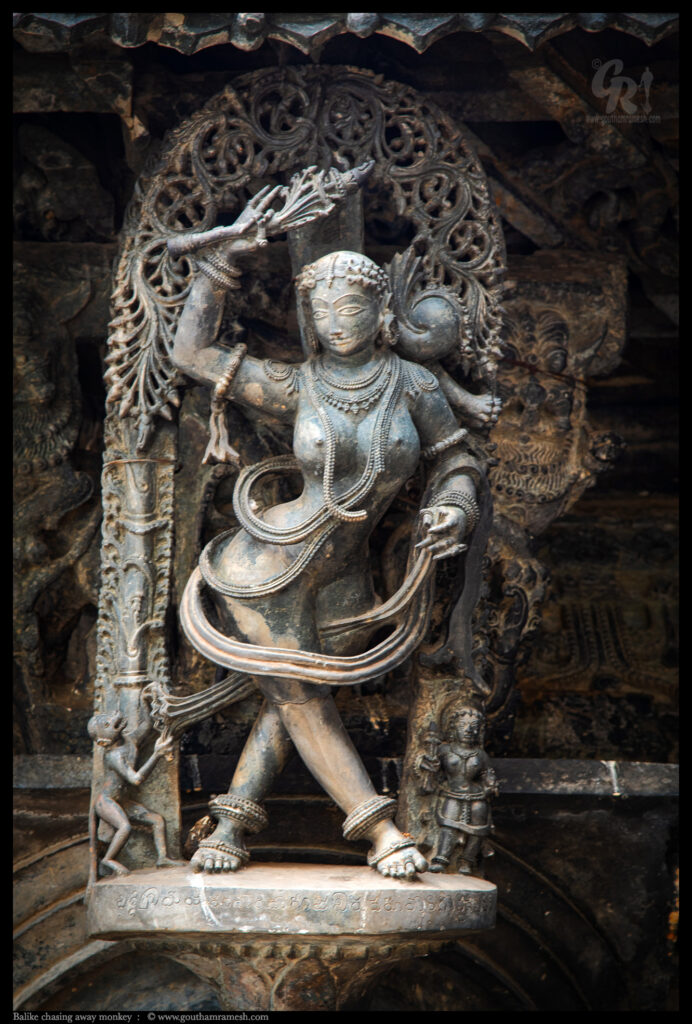 This Balika has dressed like a gypsy girl and chasing away the monkey which is pulling her dress , the feet is decorated with anklets and toe ring like all other sculptures.. this one is just shows a very pure feminine posture.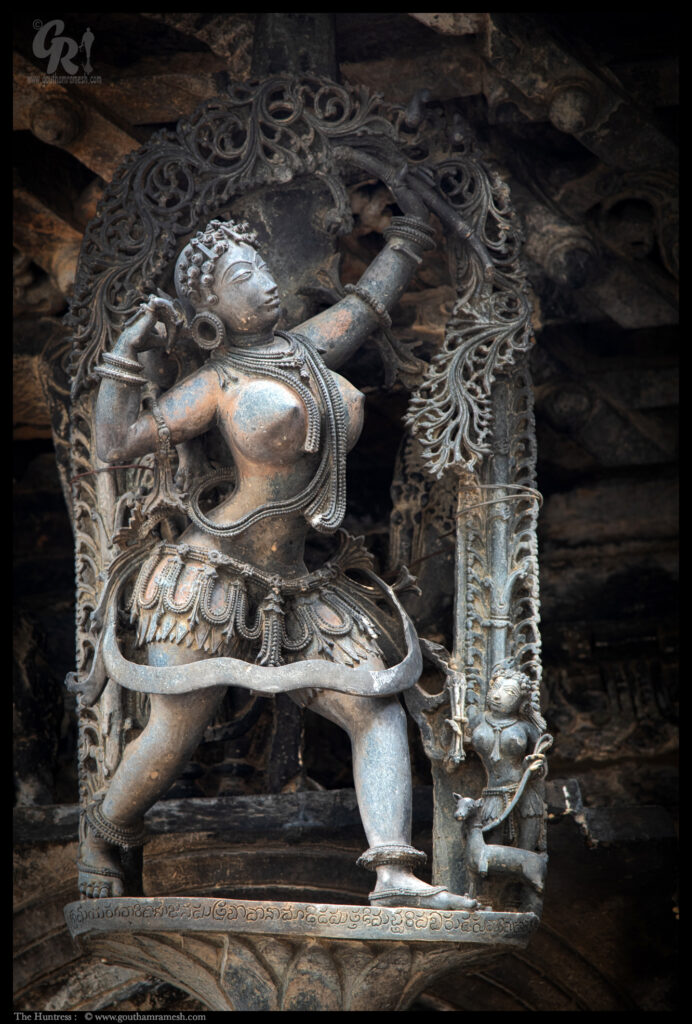 A beautiful Balike aiming het arrow at a bird sitting on the canopy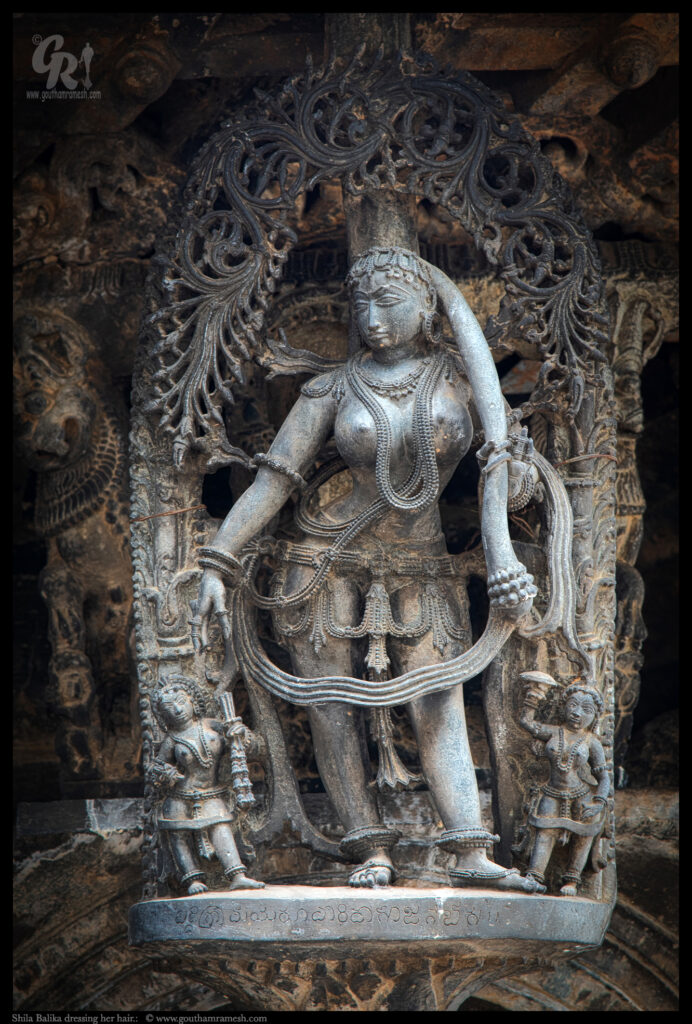 She is dressing her hair after bath. The attendants are holding flowers and toiletry. This madanika has washed her hair and is squeezing the water out of it. This depiction is seen on a sculpture inside the temple too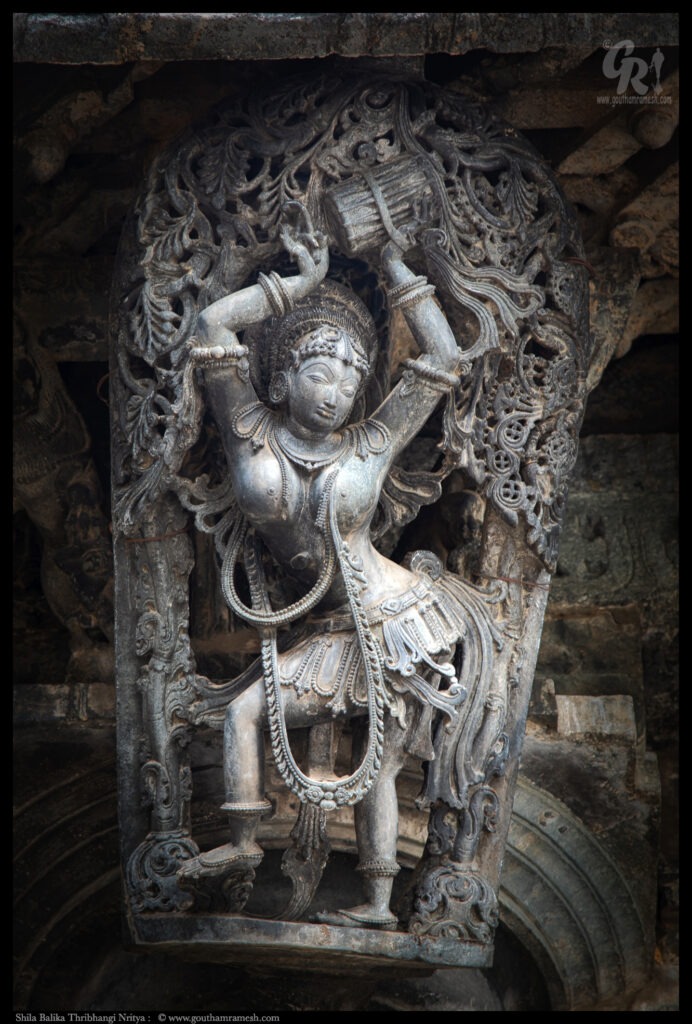 A lady is dancing stylishly by bending her body into three portions, one from the waist downward, other from the waist to the chest and another upwards. This is said to be the most difficult one to exhibit. This is apparently one of the most difficult postures to achieve in Bharatanatyam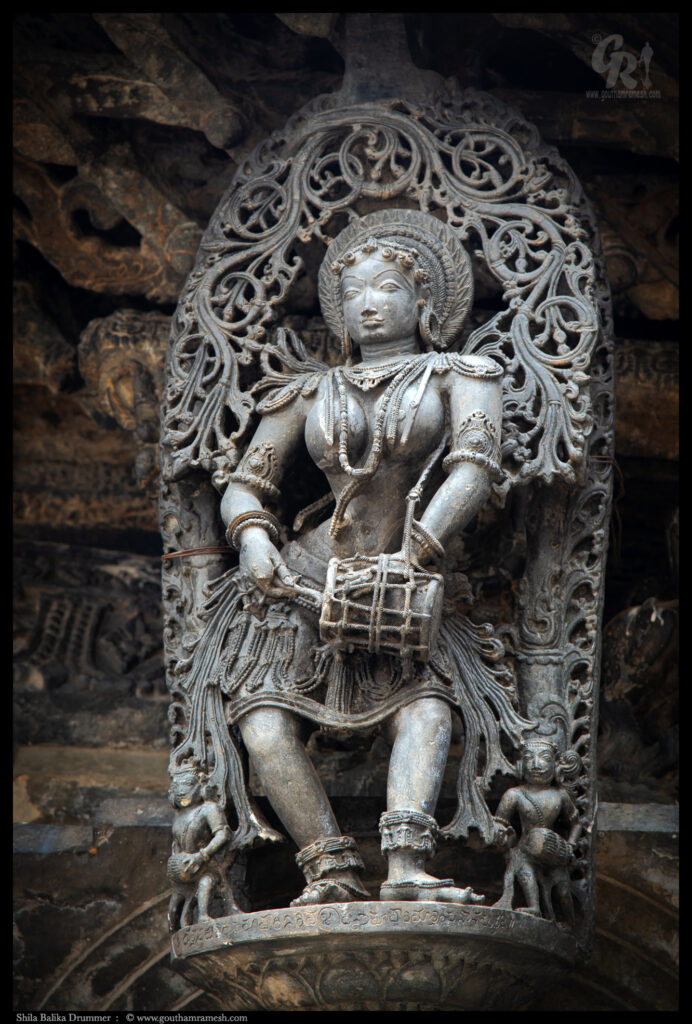 She holds in her left hand a drum and she is playing upon it with her right hand.If you look closely , the hand that is holding the drum is inside the strings that hold the membrane .. such mastery over sculpting is worth noticing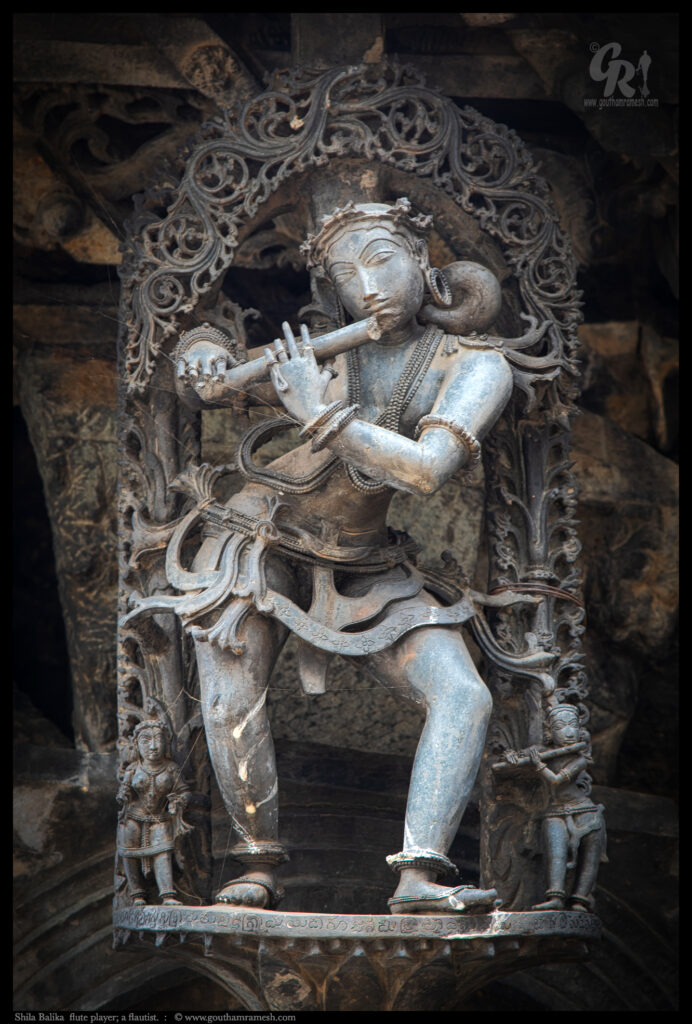 She is playing on her flute. Her maid on the left side is accompanying her to the tune of the flute with her own flute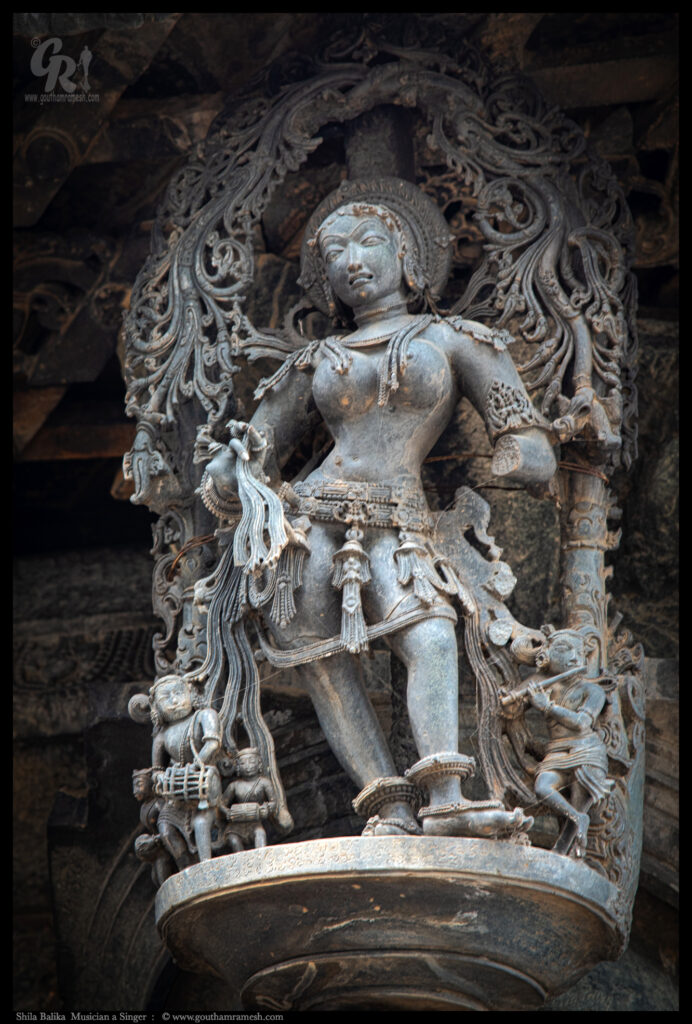 If you look closely she is singing with her mouth open and there are musicians with instruments accompanying her.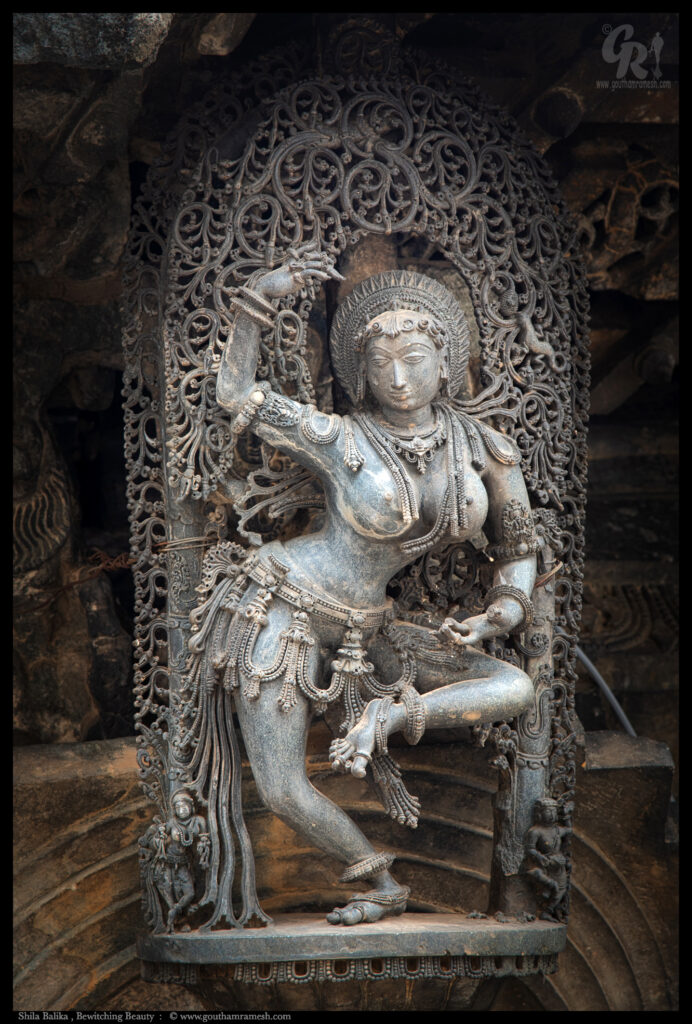 This is one of the most beautiful shila balika .Her hands and legs are cut out very nicely. Look at the canopy above her left shoulder. You can see a jackfruit and a fly on it ( If zoom , this picture does not do justice to this amazing art ) .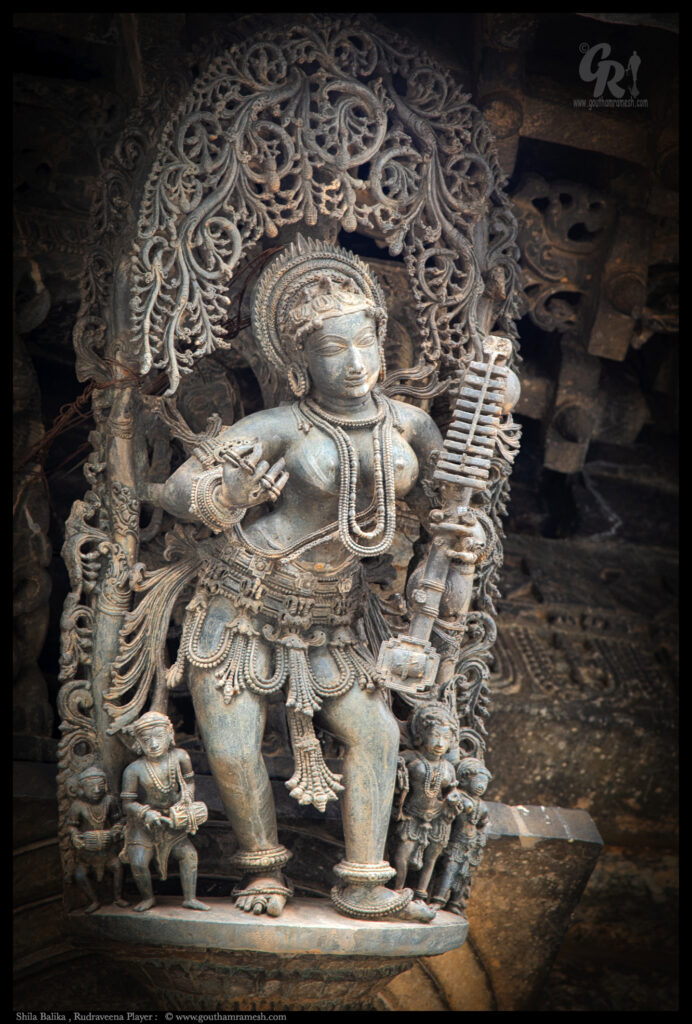 She is a Musician . She is standing holding the instrument (Rudra veena) in her left hand. Her maids are arranging for a concert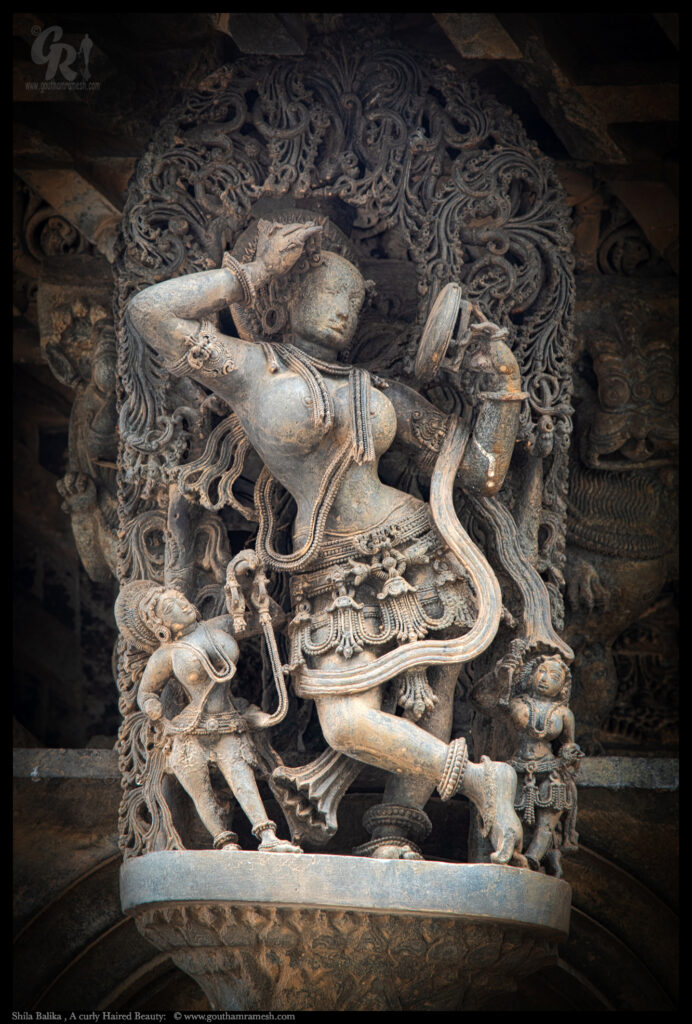 She holds a mirror having a handle. She is arranging the curls on the forehead with her right hand finger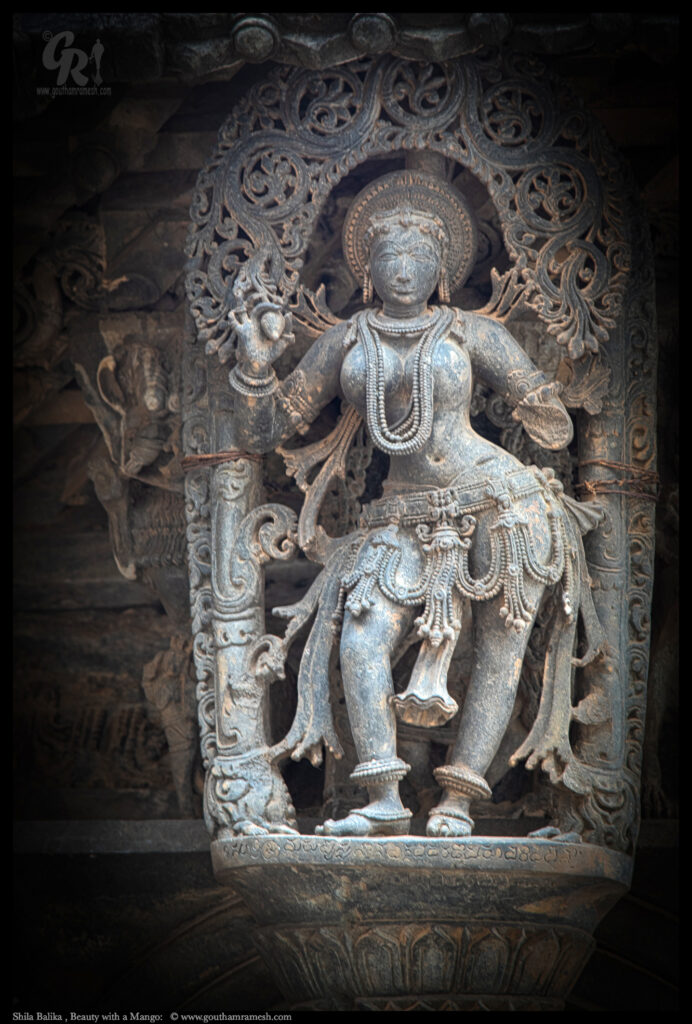 She is plucking a mango with her right hand, unfortunately not much is known, this one is damaged more than others with one hand missing and also her maids are missing.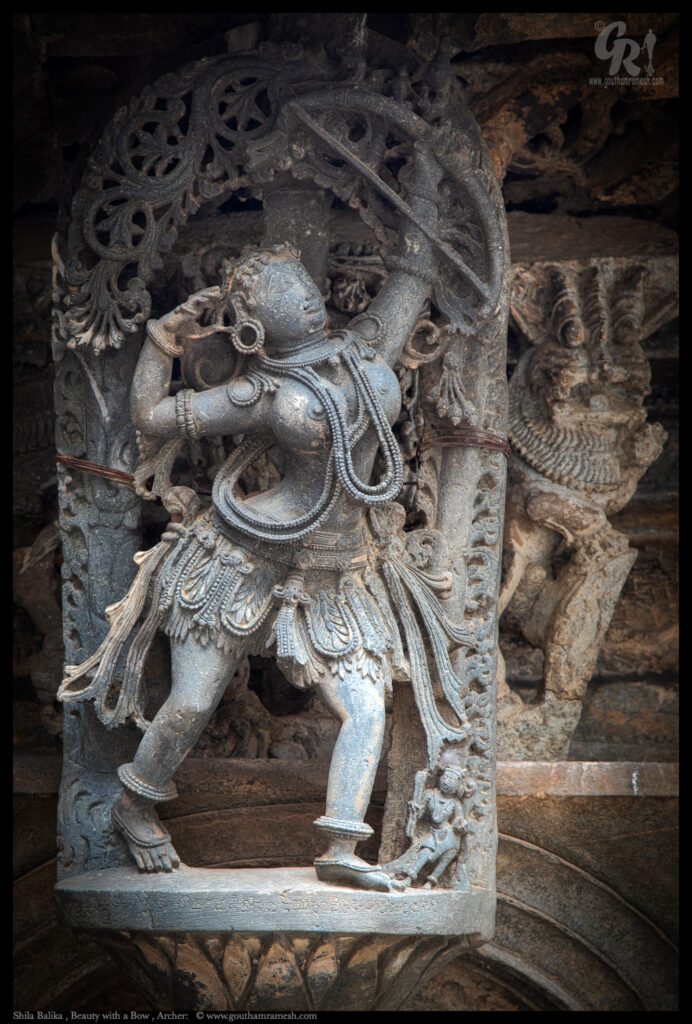 Women of ancient india were skilled warriors as well , this is one sculpture of a warrior beauty with her bow , she must have been a great archer.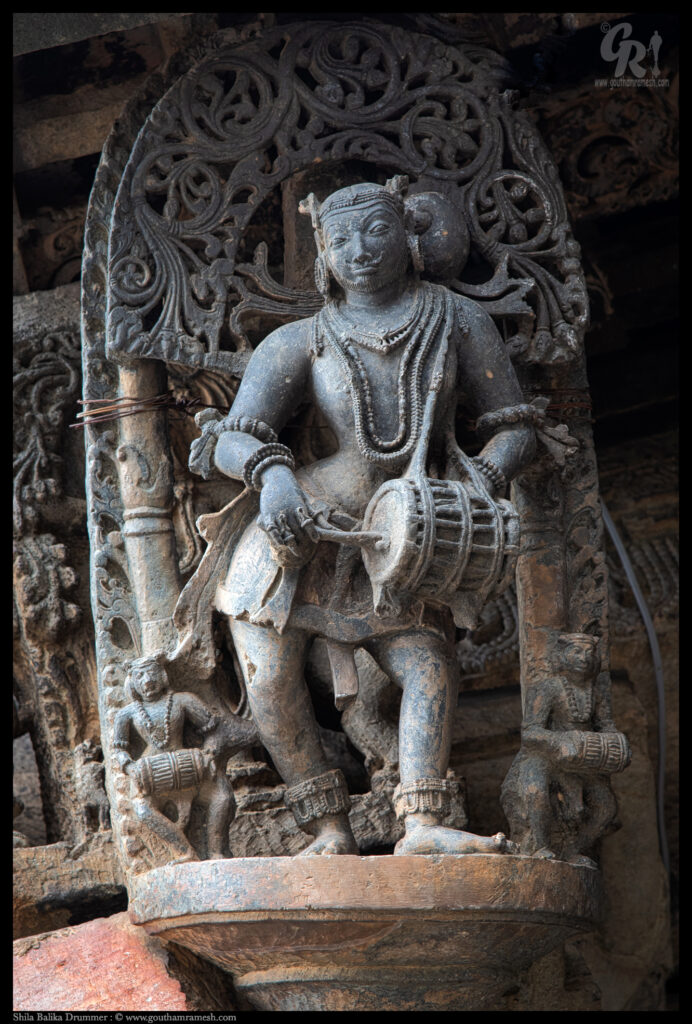 This is a drummer looks like a female dressed as male or male drummer with feminine pose and ornaments or a young girl . its anybody's guess . One thing is sure this is different from other shilabalika and stands out.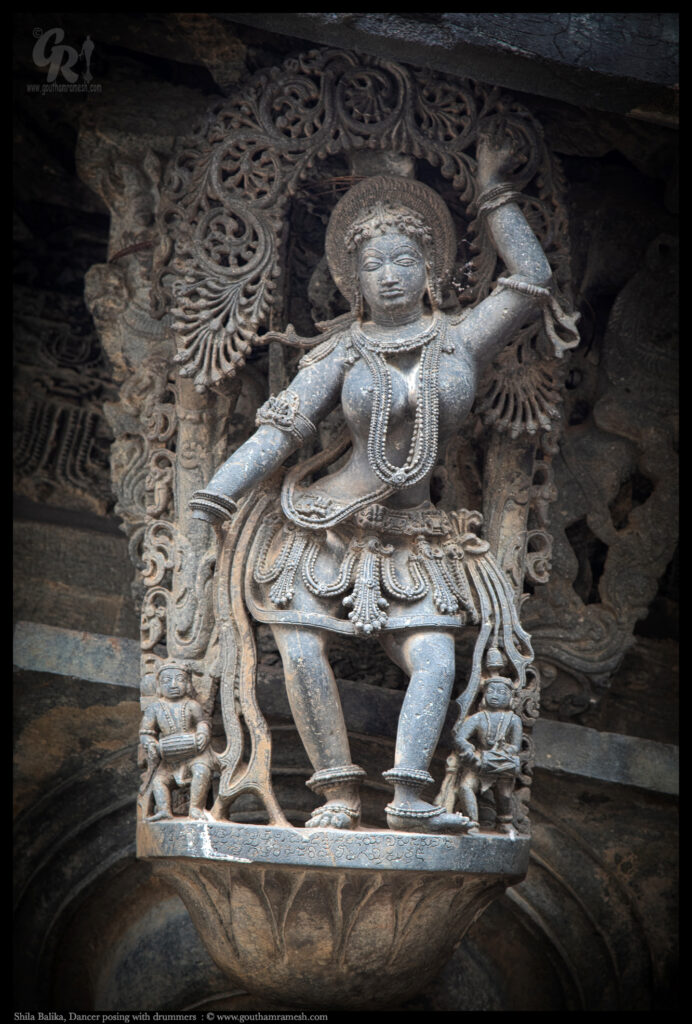 This is one of many dancer shila balikes , one hand is missing and she is accompanied by drummers.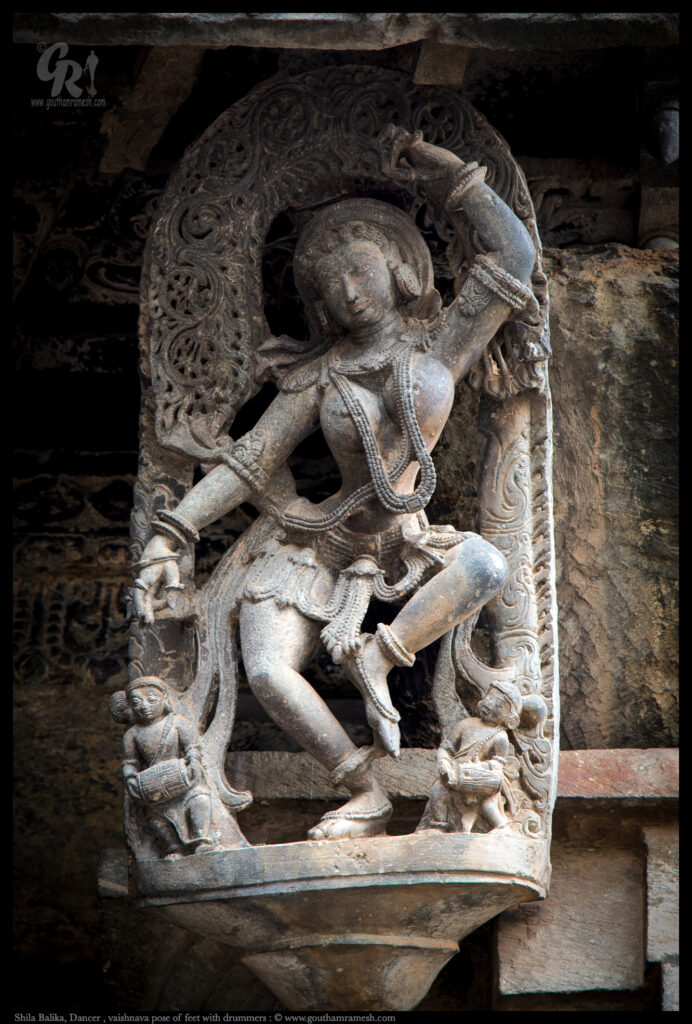 This is one of many dancer shila balikes , Beautiful feminine form with a dance pose where The feet are kept two and a half Talas apart from each other. One of them should be on the ground in the natural posture, the other is lifted and turned sideways with the toes stretched and turned towards the shin, its called vaishnava pose of feet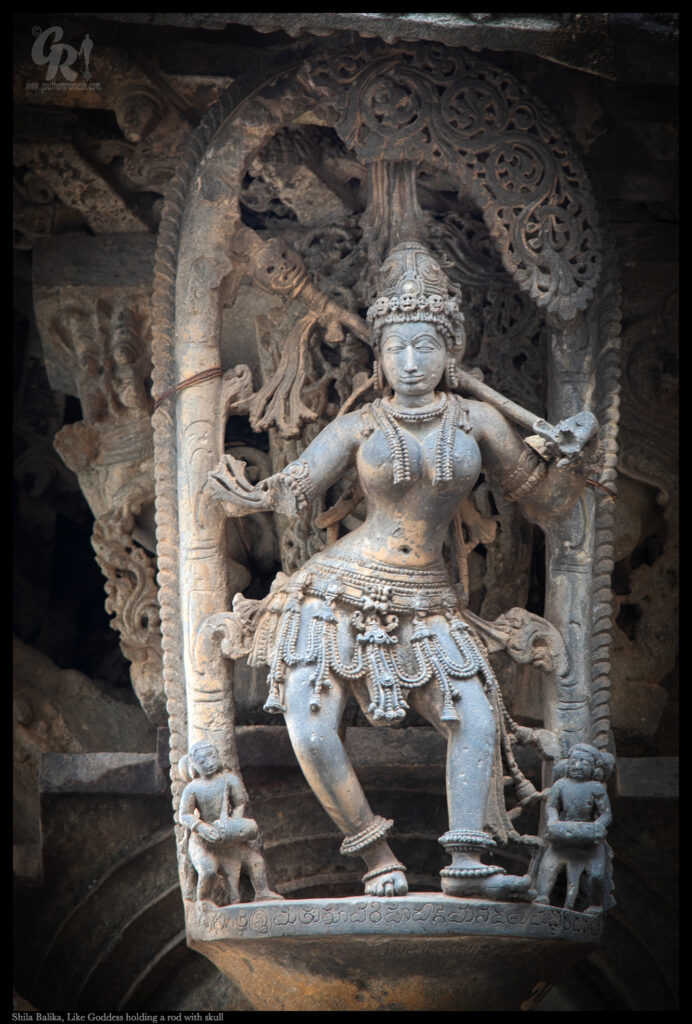 She is like a Goddess . She holds a rod with skull at the top in her left hand and her head is dressed with a band of skulls.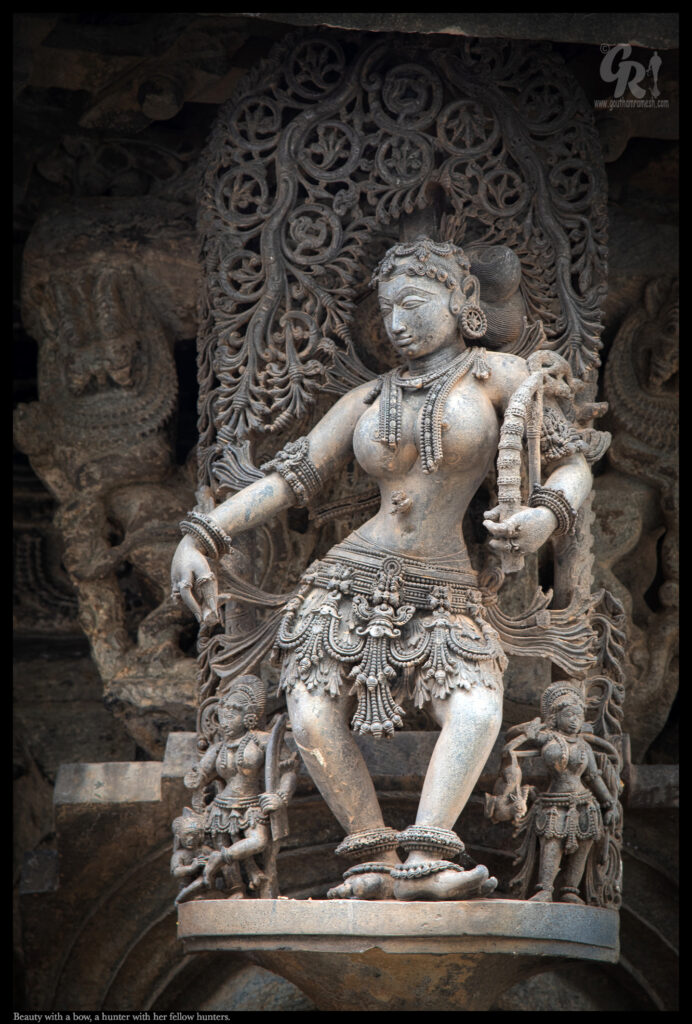 This is one of few shilabalika shown with a bow , here the bow is damaged , but looks more intricate , the arrow in the other hand is also damaged , the accompanying images show a female hunter with a deer kill .. It shows in 12/13 century India women also participated in hunting and were very skilled hunters . The toe is also very delicately posed .. indicating a delicate movement required for hunting … amazing.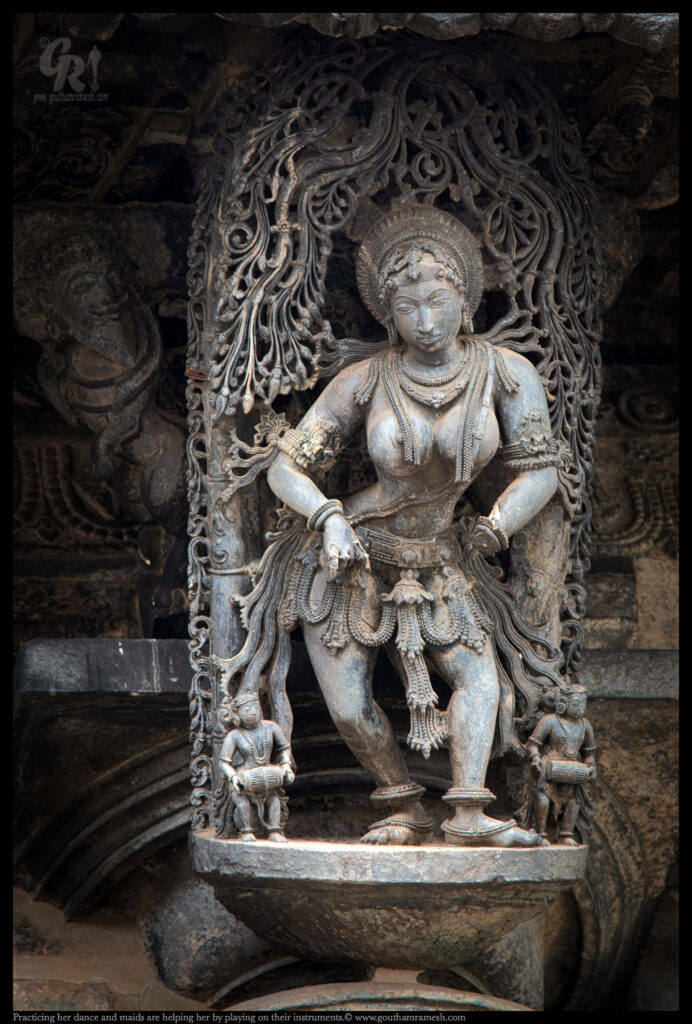 She is practicing her dance. Her maids are helping her by playing on their instruments.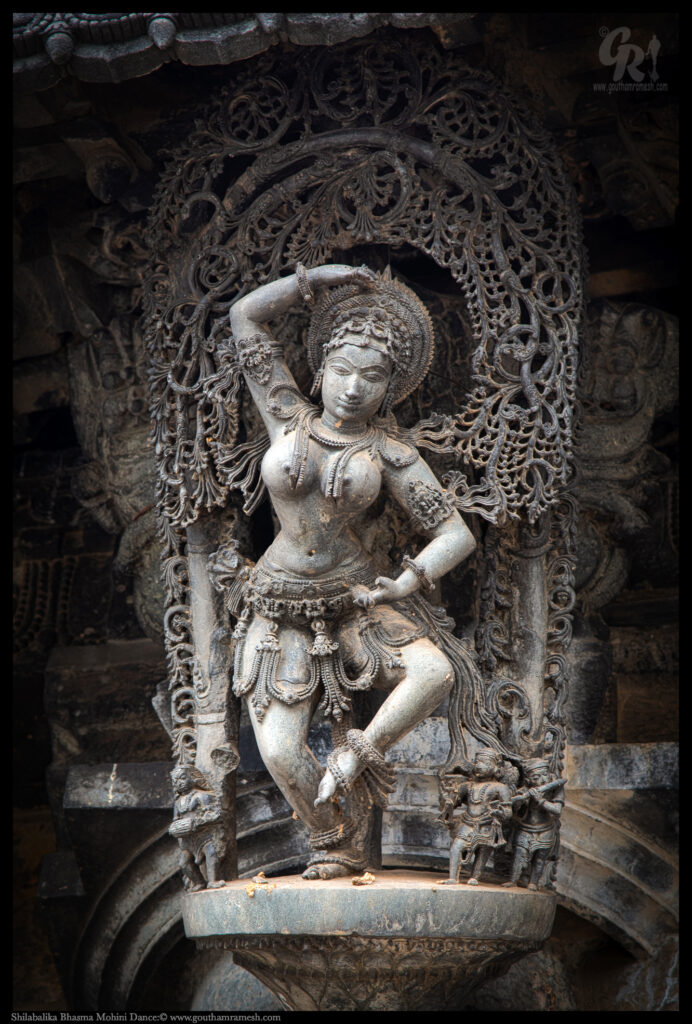 The figure illustrates the epic story of God Vishnu who took the form of Mohini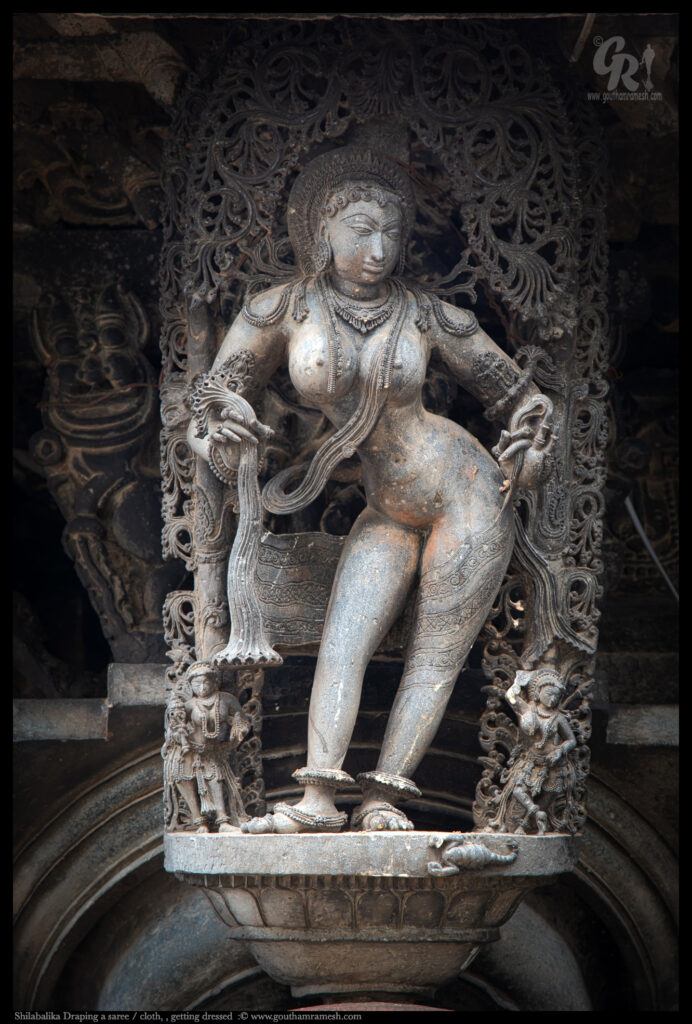 Shilabalika draping a saree or a cloth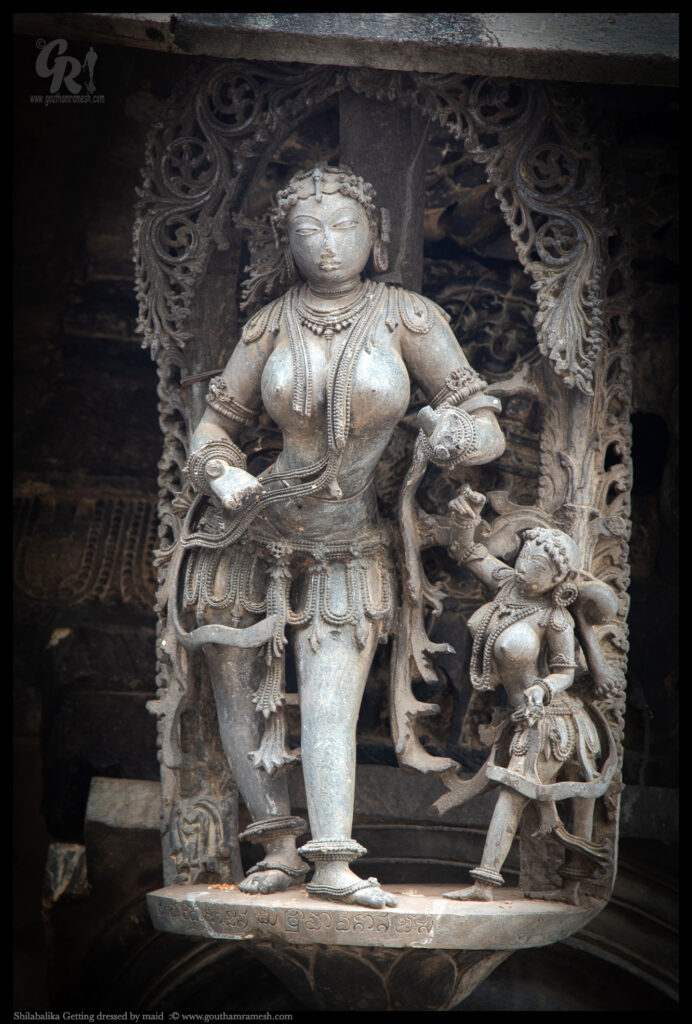 This looks like she is a queen or princess , who is getting dressed up by a maid.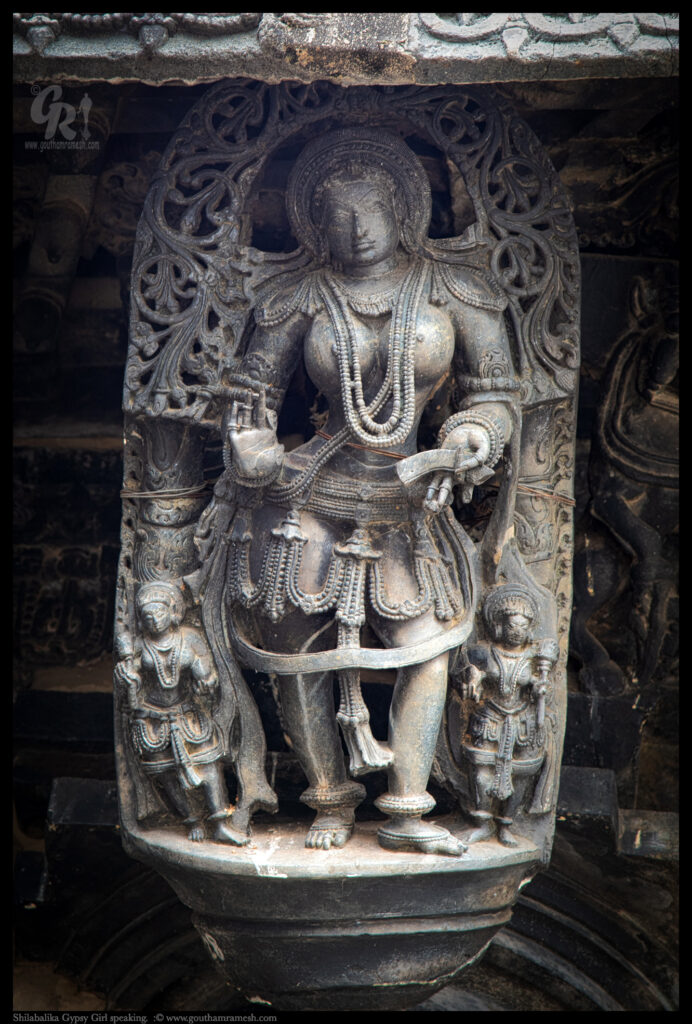 She is holding in her left hand palm leaves and and the right hand is in speaking pose.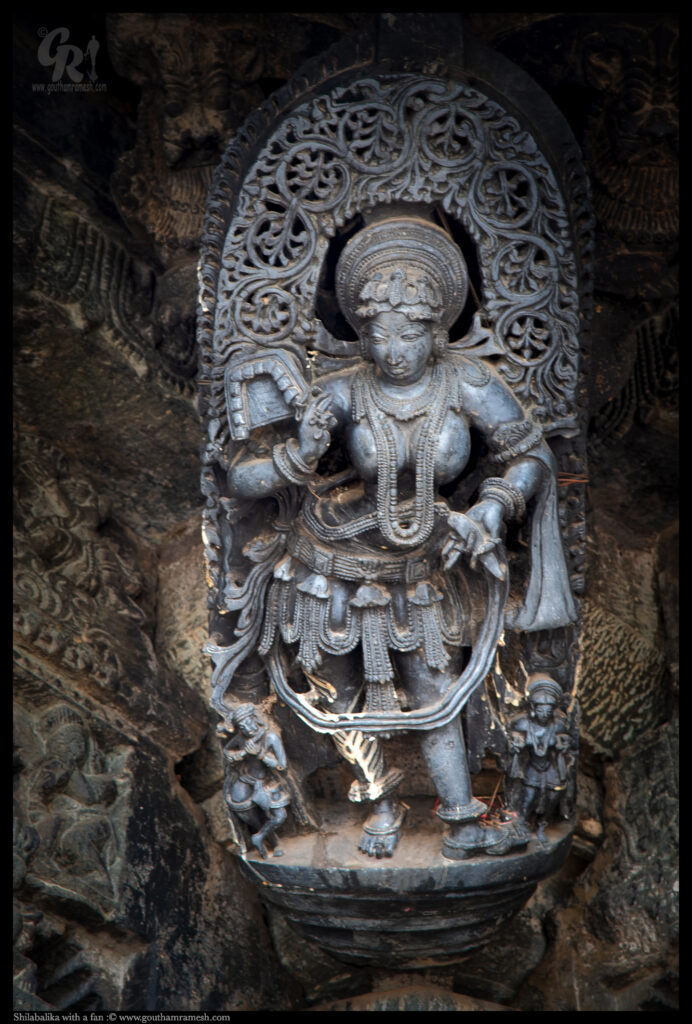 She is holding in her left hand something that looks like a banana and in her right hand a fan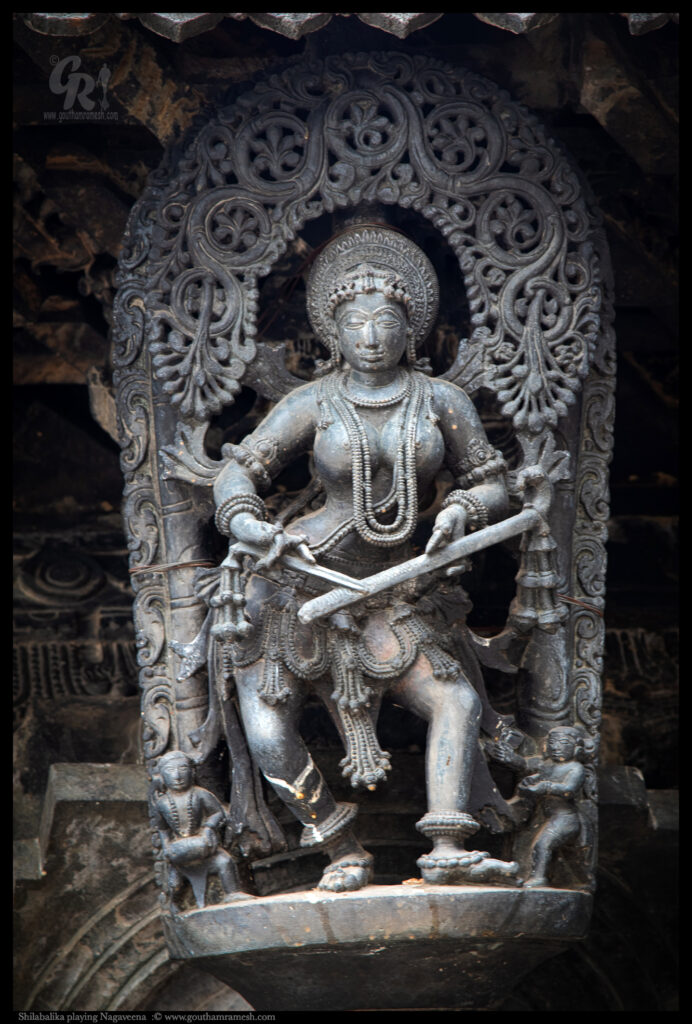 This madanika is holding a 'nagaveena'. A veena with one end shaped like a snake.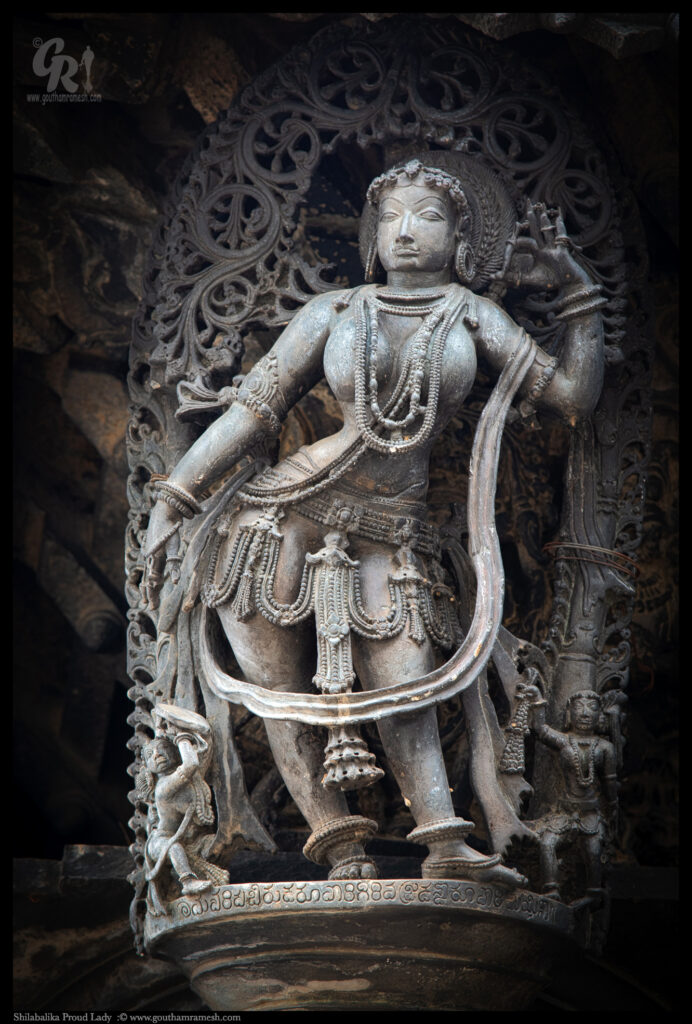 She is fully dressed and has put on all sorts of ornaments on her body. She is looking at her beauty in proud through a mirror. This madanika is called Abhimani… the proud one. Symbolizing someone who has a lot of pride in her beauty and is also very conscious of it. The sculpture at the left (at her feet), holds up a mirror but is looking away – kind of telling her 'woman, reality check'.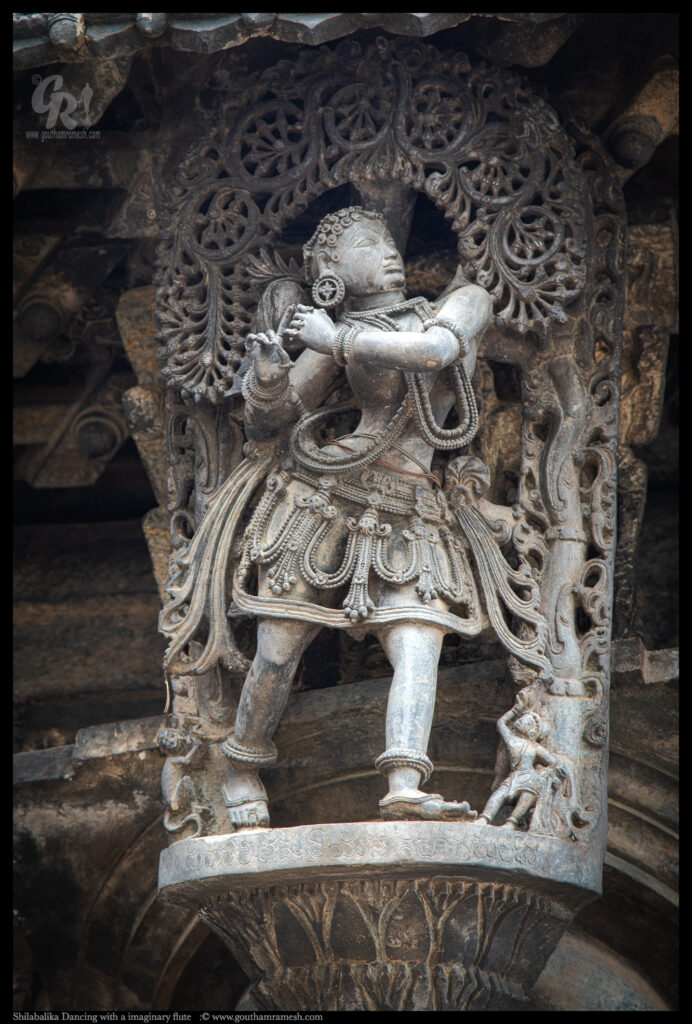 Dancing with an imaginary flute ; This one has an imaginary flute in her hand. Look at the details on the ear ring , beauty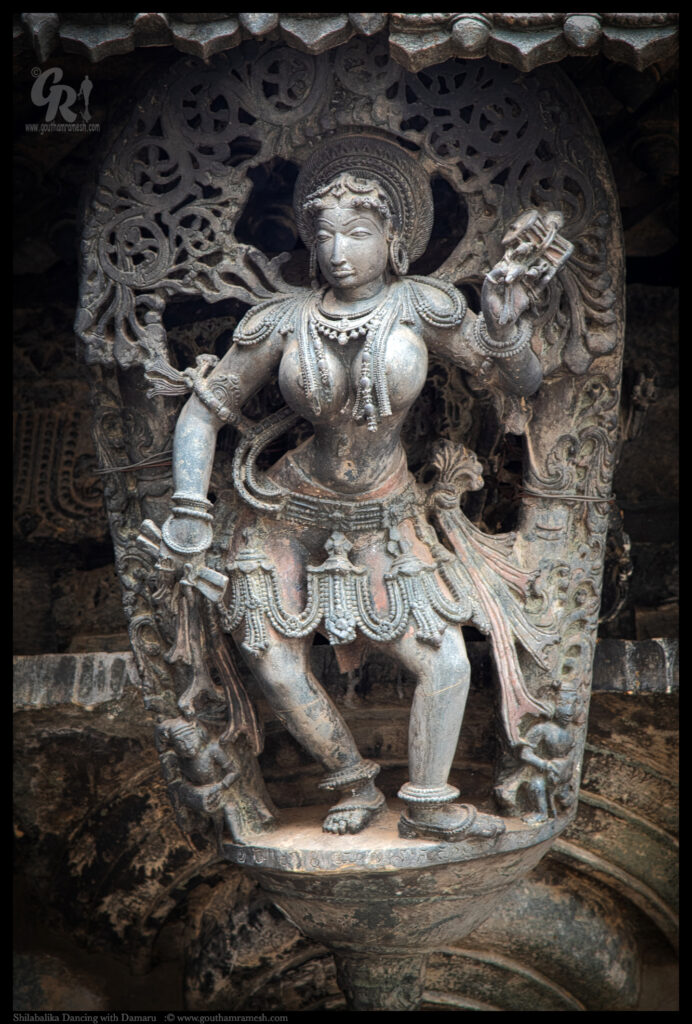 Dancing with a damaru in left hand and tala vadya in right hand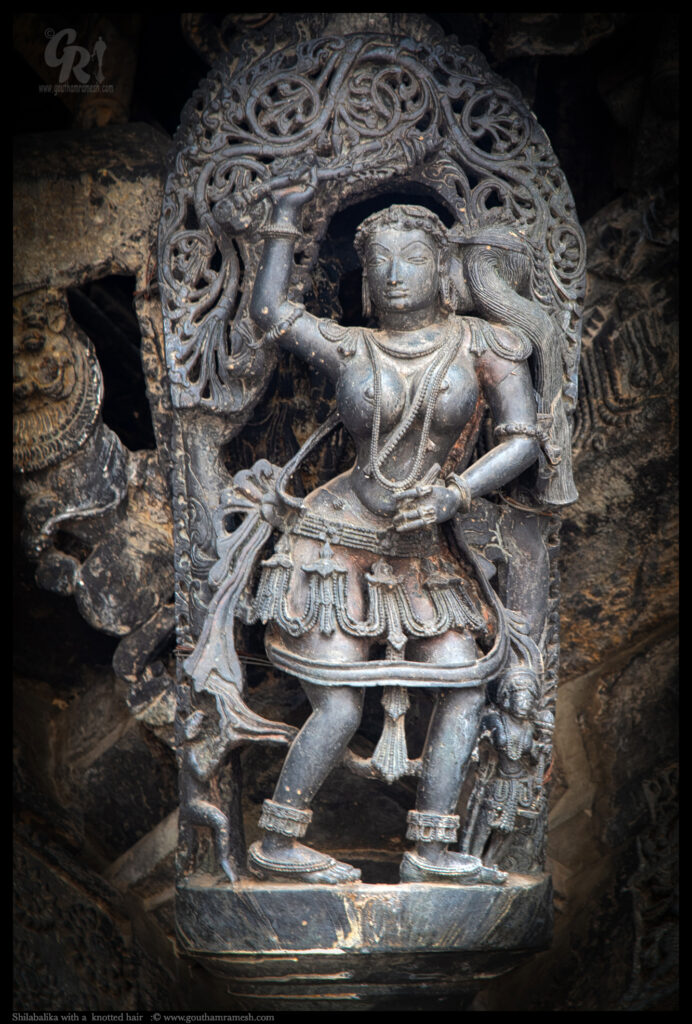 She has tied her hair into a fine knot, and she is holding a mast of some kind.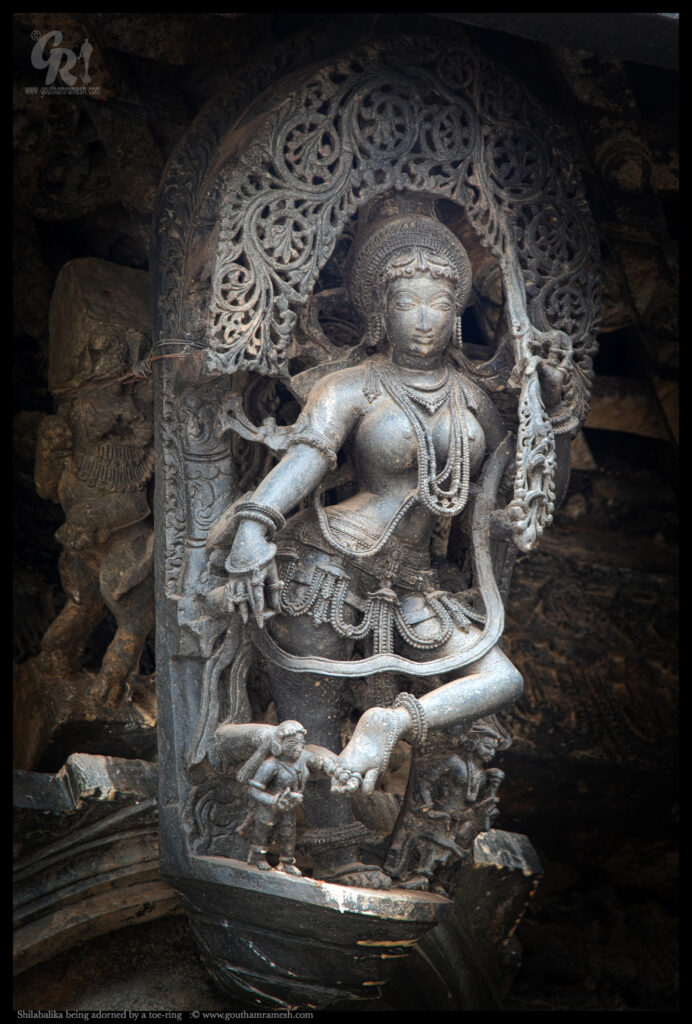 The lady has put on her best dress and ornaments and is ready to go for a dance.This one depicts whose is being adorned by a toe-ring. she is holding onto a vine for balance.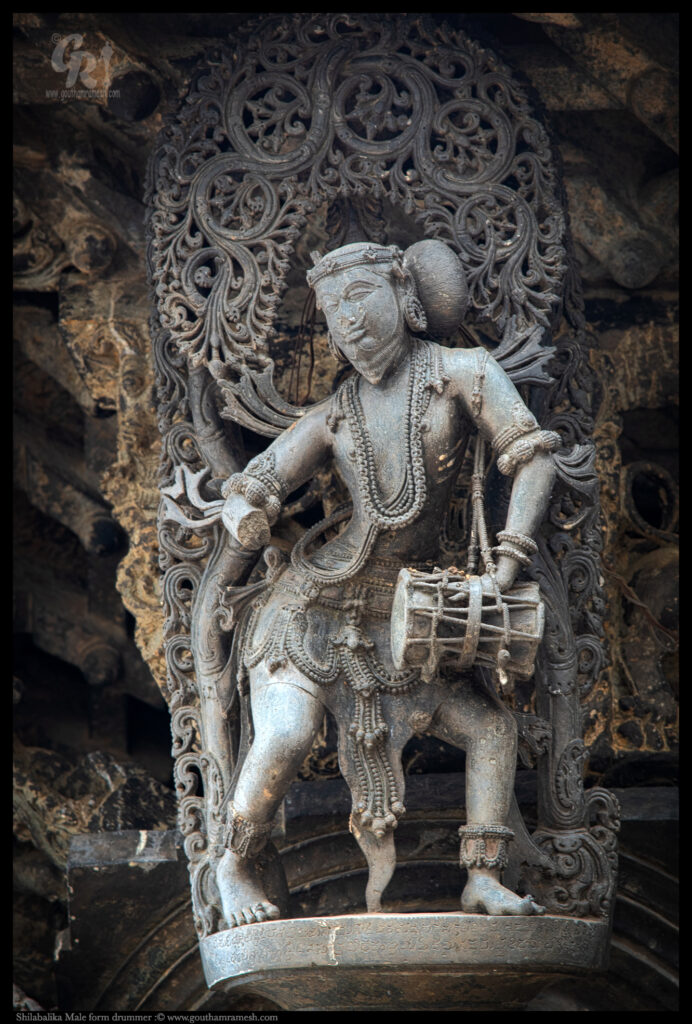 This is one of the few odd one out with male form , with beard and moustache playing a drum , have a look at the fingers of left hand inside the strings that hold the membrane together .. master sculpture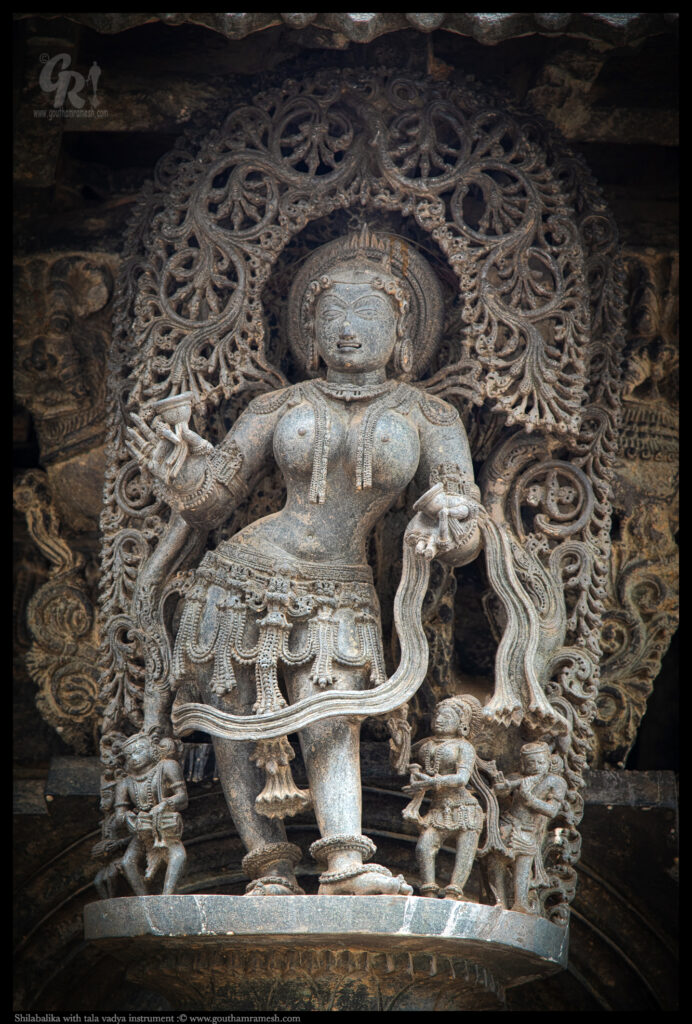 She is holding a playing a taala vadya instrument with other musicians accompanying her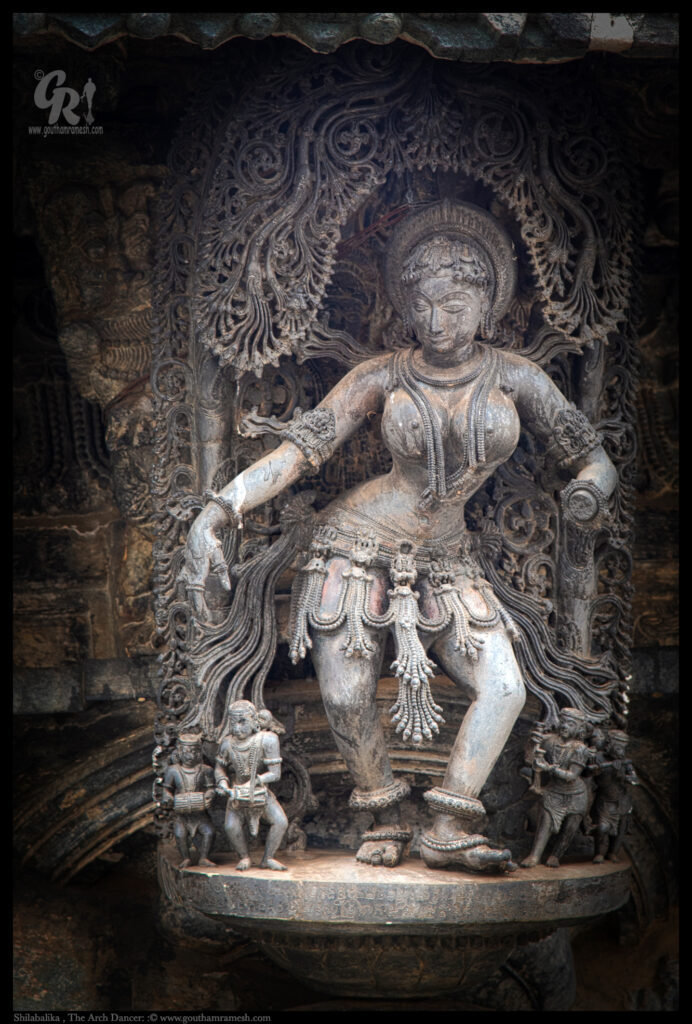 The Arch Dancer, She is dancing to the tune of the fun of her accomplice on both her sides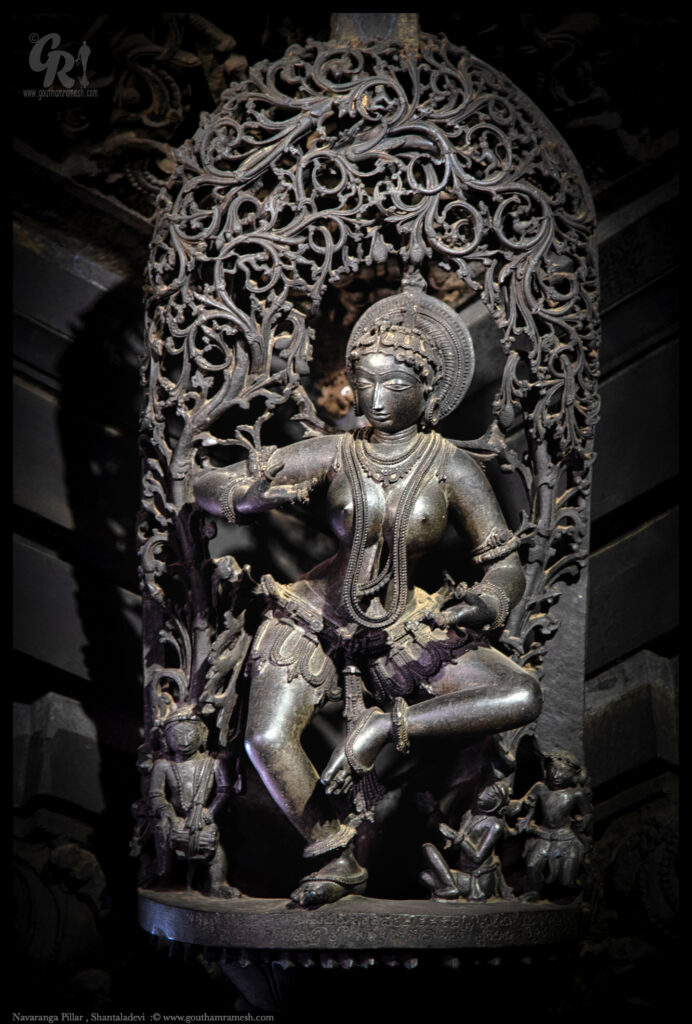 This is one of the most beautiful shilabalika found inside the temple and this is of Queen Shantala devi , an expert dancer and a very able administrator and an inspiration for all shilabalikas , being a dancer she used to dance in Navaranga inside the temple and she was an Queen.
She is dancing here . See the canopy behind. She is wearing a gem just above the middle of the forehead.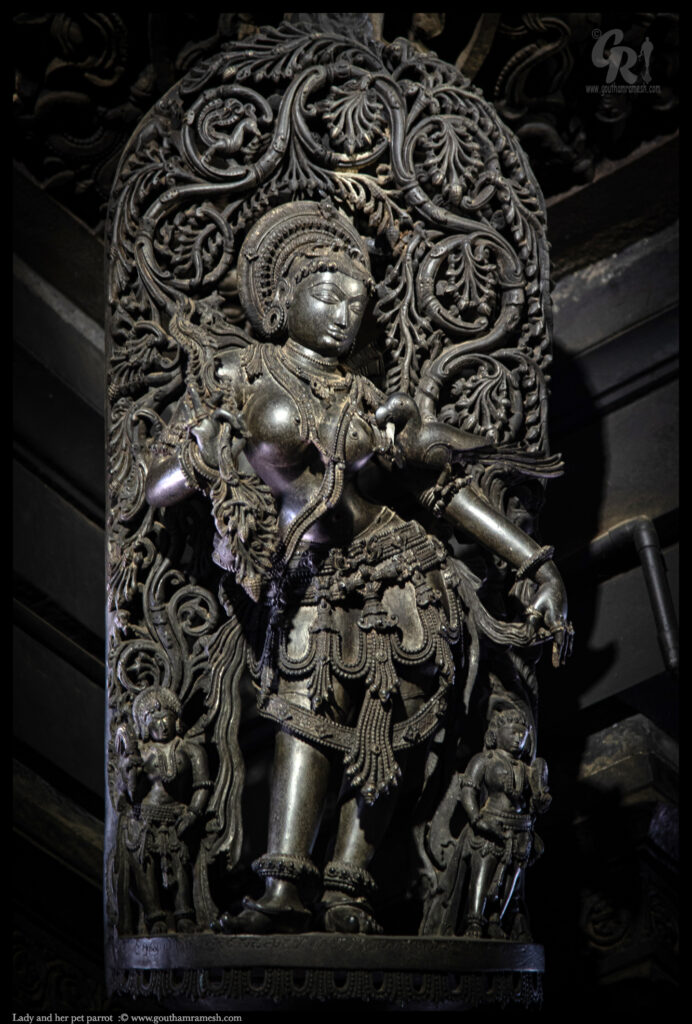 This Inside the temple
A lady holds a creeper in her right hand. A parrot is sitting on the fore palm of her left hand. She looks as if she is having a conversation with the parrot. She is having a bangle on her right hand and can MOVE UP AND DOWN ( Can really move !)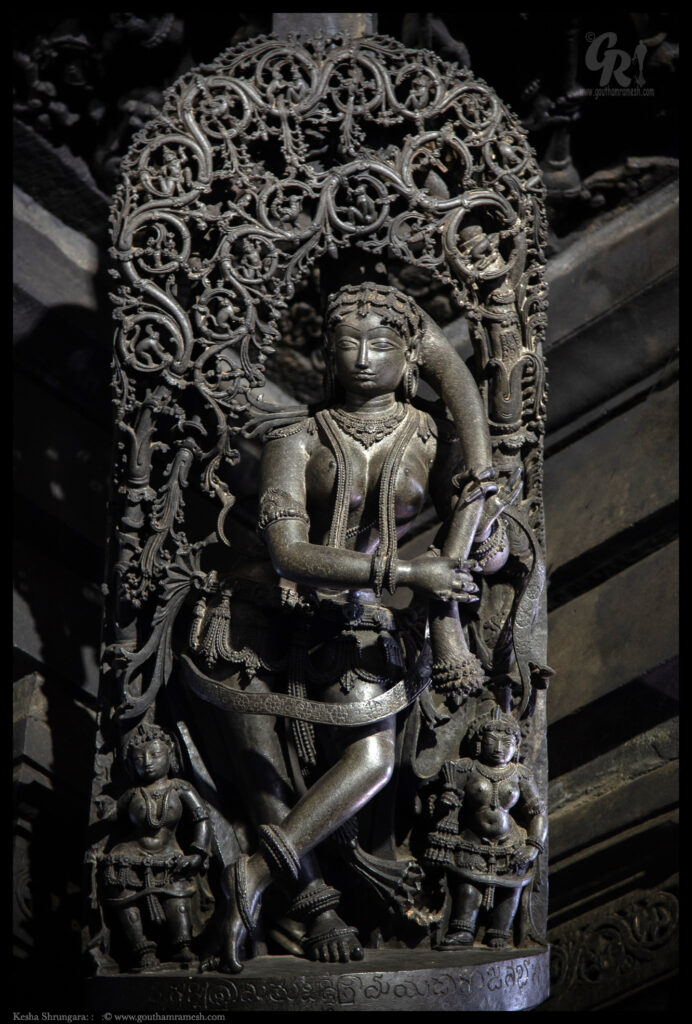 This Inside the temple
She is wringing her hair to squeeze the water after her bath. You can see the drops of water collected at the tip of her hairs.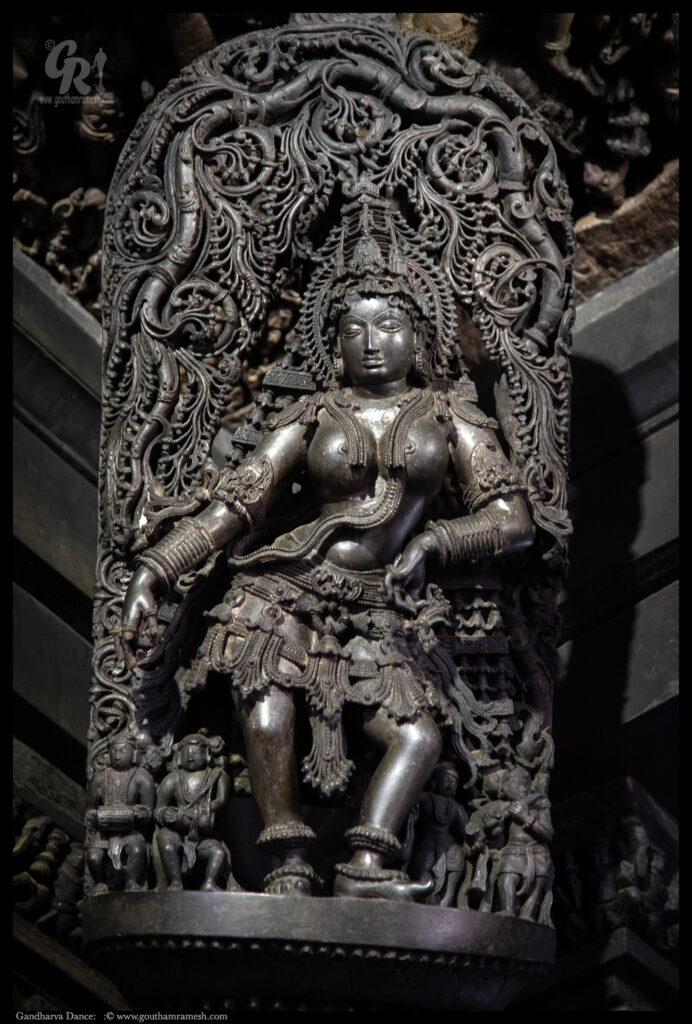 This Inside the temple
She wears on her forearm, a good number of bangles, which give an impression of moving to and fro.
Thanks for patiently reading and seeing the images as I humbly bow with a sense of awe and admiration wondering at the architectural excellence of the Hoysala craftsmen! Incredible India and it shows what rich culture we come from.
If you like the blog, you can leave a comment at Home Page
Cheers